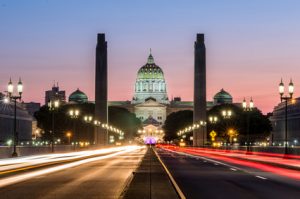 The Pennsylvania Coalition for Civil Justice Reform (PCCJR) is a statewide, nonpartisan alliance of organizations and individuals representing businesses, professional and trade associations, health care providers, nonprofit entities, taxpayers and other perspectives. The coalition is dedicated to bringing fairness to our courts by elevating awareness of civil justice issues and advocating for legal reform in the legislature. Also, as Pennsylvania is one of the few states with a partisan judicial election system, we strongly encourage all citizens to be educated voters and participate in judicial elections.
There is a need for an organization that focuses exclusively on legal reform and provides a voice for those who are concerned about the problem of lawsuit abuse in Pennsylvania. The coalition will work hand-in-hand with other advocates for civil justice fairness – to ensure our elected officials understand the extent of the problems and the importance of acting now to address them.
Pennsylvania needs a civil justice system that: is balanced and fair to all parties; applies the laws evenly based on the facts; provides access to justice for those truly injured; and discourages abusive litigation.
The coalition is a 501(c)(6) nonprofit membership organization.