No Statute or Precedent Safe in PA!
Pennsylvania courts top the list of "Judicial Hellholes" for the second year running. The dubious distinction, compiled annually by the American Tort Reform Foundation (ATRF), points to a string of pro-plaintiff decisions issued by the state Supreme Court and the long-standing reputation for big-city courts to welcome venue shopping and grant exorbitant awards. The Commonwealth's status was also hurt by Governor Wolf's veto of targeted and temporary Covid liability protections.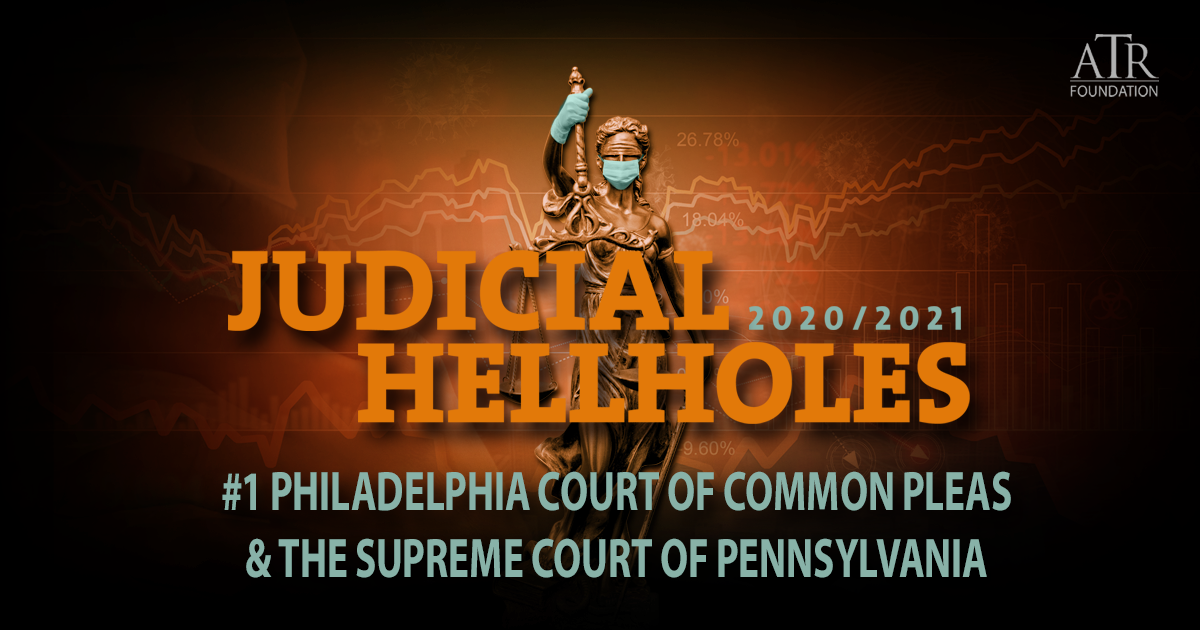 Several statutes meant to protect employers and health care were struck down or rendered meaningless by the state Supreme Court in recent years. Long standing precedents relied upon by businesses and health care were likewise swept away by the Supreme Court. Additionally, the Supreme Court's Civil Procedural Rules Committee is considering changing the rules about where doctors and hospitals can be sued. This practice, known as "venue shopping," is most often influenced by inflated cash awards and big paydays for plaintiffs' lawyers.
Curt Schroder, Executive Director of the Pennsylvania Coalition for Civil Justice Reform (PCCJR) reacted to the 2020-2021 "Hellholes" designation with the following statement:
"It is increasingly obvious that any statute or long-term precedent opposed by the state's plaintiffs' lawyers is in danger of being struck down by the Supreme Court.  The list of statutory and precedential casualties has steadily grown under the current makeup of the Supreme Court.
"As a result, well-reasoned and carefully considered policies put in place by the legislature to protect health care access and Pennsylvania's economic health have gone by the wayside. Small businesses and employers of all sizes need certainty and a level civil justice playing field on which to operate.  The uncertainty created by rapid changes in liability expectations as the result of court decisions harms the economy and acts as a deterrent to employers looking to expand or establish business in Pennsylvania. These decisions can also result in limiting access to health care and preventing community growth and development."
Schroder cited several recent Supreme Court decisions, which expand liability and create uncertainty for either health care, businesses, or governmental entities. In all these decisions there is a common thread: opening up healthcare and businesses to greater liability and more uncertainty.  Those decisions are listed below.
"The Pennsylvania Coalition for Civil Justice Reform calls on the Supreme Court to carefully consider the impact of their decisions on health care access and Pennsylvania's economy," said Schroder.
Decisions by the Pennsylvania Supreme Court expanding liability and creating uncertainty:
Hammons v. Ethicon, No. 7 EAP 2019 – the Supreme Court failed to follow U.S. Supreme Court precedent by allowing an Indiana resident to continue a case against a New Jersey-based company filed in the Philadelphia courts.
Dean v. Bowling Green-Brandywine, 225 A.3d 859 (Pa. 2020) – Supreme Court ruled the qualified immunity provision of § 114 of the Mental Health Procedures Act ("MHPA"), 50 P.S. §§ 7101-7503, did not protect a facility providing services to the mentally ill.
Roverano v. John Crane, Inc., 226 A.3d 526 (Pa. 2020) – the Supreme Court ignored the plain reading of the Fair Share Act, which applies to strict liability actions and replaces per capita apportionment with percentage allocation. The Court determined each defendant is "wholly responsible" for the harm, that it is inappropriate to introduce concepts of fault in a damage-apportionment process, in spite of the clear language of the statute to the contrary.
Erie Ins. Exch. v. Moore, 228 A.3d 258 (Pa. 2020) – under an insurance policy, injury is not covered where it is "expected or intended."  The Supreme Court rejected the commonsense argument that in the course of a scuffle involving a gun, the gun might go off and cause injury and/or damage. The Court ruled this was not "expected or intended."
Maas v. UPMC Presbyterian Shadyside, No. 7 WAP 2019 (Pa. July 21, 2020) – as a result of this case, health care providers are now required to warn neighbors of mental health patients that are making threats against them, yet no guidance was given by the Court as to the extent of the duty to warn, thus creating great uncertainty for the provider in knowing when it is in compliance.
Gallagher v. GEICO Indem. Co., 201 A.3d 131 (Pa. 2019) – The household vehicle exclusion in a policy precluded recovery for bodily injury occurring in motor vehicles unnamed under the policy. The Pennsylvania Supreme Court held that the exclusion violates the Motor Vehicle Financial Responsibility Law ("MVFRL") by acting as a de facto waiver of the stacked uninsured motorist and underinsured motorist coverages.
Feleccia v. Lackawanna Coll., 215 A.3d 3 (Pa. 2019) – The Supreme Court ruled that a duty of care exists to provide medical trainers at football practice and the waiver of liability the player signed did not apply to claims of gross negligence and recklessness.
Barnard v. Travelers Home & Marine Ins. Co., 216 A.3d 1045 (Pa. 2019)  – the Court expanded required insurers to obtain a separate stacking waiver for uninsured motorist coverage when an insured increases the limit of their policy, even after they had previously given a stacking waiver.
Yanakos v. UPMC, 218 A.3d 1214 (Pa. 2019) – The Supreme Court struck down the statute of repose in medical liability cases which required that cases be brought within seven years.  This provision had been in statute since 2002.
Sayles v. Allstate Ins. Co., 219 A.3d 1110 (Pa. 2019) –  § 1796(a) of the Pennsylvania Motor Vehicle Financial Responsibility Law ("MVFRL"),  requires an insured seeking first-party medical benefits under the policy to submit to an independent medical exam whenever the insurer requires and with a doctor selected by the insurer. The Supreme Court went against the plain reading of the statute and decided to require the insurer to obtain a court order, upon a showing of good cause, prior to requesting an independent medical exam.
Danganan v. Guardian Prot. Servs., 645 Pa. 181 (2018) – The Supreme Court expanded liability by allowing out of state residents to file claims against Pennsylvania headquartered business under the Unfair Trade Practices/Consumer Protection Law  based on transactions occurring out of state. Prior to this case, Pennsylvania businesses were not exposed to suits by out of state residents for out of state transactions.
Bailets v. Pennsylvania Tpk. Comm'n, 645 Pa. 520 (2018) – for the first time, the Supreme Court decided that non-economic damages can be awarded under the whistleblower law.
Reginelli v. Boggs, 645 Pa. 181 (2018) – The Supreme Court limited the confidentiality of documents under the Peer Review Protection Act, opening medical professionals to more liability claims.
Walters v. UPMC Presbyterian Shadyside, 646 Pa. 746 (2018) -The Supreme Court  imposed a duty of care on medical facilities to report and warn appropriate authorities about the dangers of a previous employee. No guidance was given on how the hospital was to do this saying each case would be decided on its own facts.
Balentine v. Chester Water Auth., 648 Pa. 105 (2018) –  In this case, a parked Chester Water Authority ("CWA") vehicle was rear ended, causing it to move forward into another vehicle. The PA Supreme Court held that the involuntary movement of a vehicle-imposed liability on the CWA and the CWA was not protected by governmental immunity. As a result, the CWA was not immune from suit even though the CWA employee did not put the car in motion.
Nicolaou v. Martin, 649 Pa. 227 (2018) – Court held that it is a question for the jury, and not the judge, to decide whether plaintiffs knew or should have known of alleged malpractice for purposes of the statute of limitations discovery rule.  This subjects medical professionals to emotional arguments and not necessarily a ruling on the facts.
Dittman v. UPMC, 649 Pa. 496 (2018) – this case imposed a duty on employers to protect employees against data breech. The Supreme Court also decided that purely economic losses are recoverable in a variety of tort actions and that the plaintiff was not barred simply because the action sounds in tort rather than contract law.
Brewington for Brewington v. City of Philadelphia, 199 A.3d 348 (Pa. 2018) – the Supreme Court concluded that the failure to affix mats to a gym wall that caused injuries may constitute a negligence act and governmental immunity for a school did not apply.
Rancosky v. Washington Nat'l Ins. Co., 642 Pa. 153 (2017) – the Court lowered the threshold for bad faith insurance claims, requiring a plaintiff merely prove knowledge or recklessness rather than a motived self-interest or ill-will on the part of the insurer.
Dubose v. Quinlan, 643 Pa. 244 (2017) – the Court determined that the MCARE statute of limitation for survival actions in medical negligence resulting in death to be two years from the death of the individual as opposed to two years from the date of injury. This ruling opens medical providers to greater liability and more claims.
Erie Ins. Exch. v. Bristol, 643 Pa. 709 (2017) – in this case the Supreme Court gave additional time in which to file an uninsured motorist case.
Rost v. Ford Motor Co., 637 Pa. 625 (2016) – in asbestos product liability cases, the Court overlooks the importance of frequent, regular, and proximate criteria to determine liability.
# # #
CONTACT: Curt Schroder, 610.389.4293, curt@pccjr.org