London-based lawsuit filed in Philly ** The question around non-scientist juries ** In the News
Does a Lawsuit Over a Fire In London Belong In Philadelphia?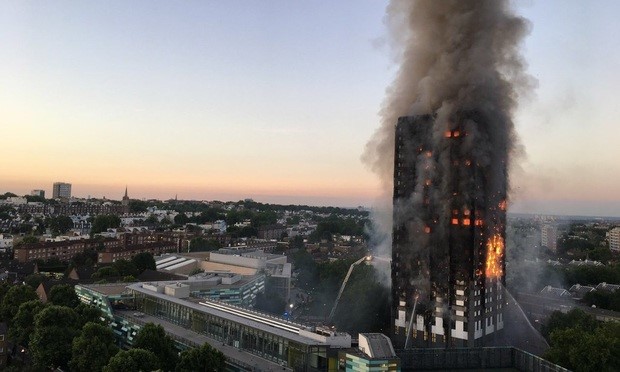 The latest egregious example of forum shopping/litigation tourism is a case filed in Philadelphia over a fire that happened in London. Why would this case be filed in Philadelphia, about 3542 miles away from where the fire occurred? The answer is Philadelphia's reputation for huge verdicts and its perennial status as a judicial hellhole!
The suit stems from the June 14, 2017 fire at Grenfell Towers in London. The fire was allegedly ignited by a defective refrigerator and exacerbated by faulty cladding and insulation. It burned for several hours and eventually left 72 dead and dozens more injured. Plaintiffs claim that two companies—Arconic, which made the cladding, and Celotex, which made the insulation—are headquartered in Pittsburgh and Malvern, Pennsylvania, respectively. The defendants argue that their U.S. corporations are entirely separate from the European ones that made the cladding and insulation.
The court will no doubt closely examine the corporate structure of the companies to determine whether Pennsylvania has jurisdiction under due process standards set forth by the United States Supreme Court. However, the more interesting question is: What is this case doing in Philadelphia?
Pennsylvania's venue rule, Rule 1006, states that an action may be brought in and only in a county in which the individual may be served, the cause of action arose, where a transaction or occurrence took place out of which the cause of action arose, or in any other county authorized by law. On its face, this case does not appear to meet any of the legal requirements to be filed in Philadelphia. (Note: Defendants have removed the case to federal court.)
Perhaps sensing that he was on flimsy ground bringing the case in Philadelphia, the plaintiffs' attorney noted in a press conference that Malvern (the alleged home of Celotex) was visible from his 52nd floor office in center city Philadelphia! It is stating the obvious to note that visibility from a center city office tower does not confer venue upon Philadelphia courts!
Philadelphia's courts are flooded with cases from out of state litigants. Will litigants from foreign countries be the next wave of cases seeking to hit a jackpot verdict in Philadelphia? Out of state and out of country litigants file suit in Philadelphia for the same reason plaintiffs' attorneys are urging the PA Supreme Court to scuttle the 2002 medical liability venue rules. The medical liability venue rules have been successful in keeping cases out of Philadelphia that have no business being filed there. The Grenfell Towers case vividly demonstrates why the Supreme Court should not only preserve the medical liability venue rule, requiring cases to be filed where the cause of action arose, but should extend the medical liability rule to ALL personal injury civil cases.
Should non-scientist juries determine scientific questions?
What kind of juror should decide scientific questions in court? With billions of dollars and long-term reputational issues for companies at stake, experts are questioning if non-scientists should be asked to determine scientific questions in complicated tort cases. Huge jury verdicts in recent civil lawsuits around the weed-killing product Roundup and Johnson's Baby Powder highlight the complexities when plaintiffs and defendants lock horns in the battle of the experts. With most other countries approaching these kinds of cases differently, is it time the United States considers a different approach?
Recommended reading on the topic includes this recent article, which appeared in the Northern California Record, Roundup, talc cases force question: What if juries get the science wrong?
In the News
Skin or No Skin?| Lawsuit says TGI Fridays potato skins contain no potato skins| Reuters
Coffee is hot and accidents happen| Woman allegedly burned by hot coffee at Philadelphia Dunkin' Donuts settles case| Pennsylvania Record