Forum shopping and a preponderance of jackpot-seeking trial lawyers land Philadelphia in the No. 6 spot of the American Tort Reform Foundation's Judicial Hellholes
HARRISBURG, PA — This year's No. 6 Judicial Hellholes ranking goes to the Philadelphia Court of Common Pleas, due in part to the excessive pharmaceutical litigation pending in the court. Not only was there a sizable increase in the number of cases filed in the court's Complex Litigation Center, but out-of-state plaintiffs filed 84 percent of the cases.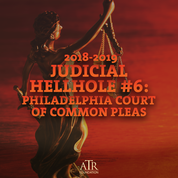 Pennsylvania Coalition of Civil Justice Reform Executive Director Curt Schroder reacted to the city's continued spot on the American Tort Reform Foundation's annual list and its implications:
"There appears to be a special place in judicial hell reserved for the Philadelphia Court of Common Pleas.  After appearing on the Hellholes list last year, there is no significant improvement in Philadelphia's position this year.  If Pennsylvania truly wants to attract marquee employers, having just lost its bid for Amazon, Philadelphia needs to get off this list.  Neither the city nor the state will ever catch a big-name company or significantly grow its jobs climate until Pennsylvania improves its judicial footing and cleans up its liability climate.
It is astounding that Philadelphia continues to ignore important United States Supreme Court decisions providing jurisdictional due process protections and limiting where cases can be filed in a state. Under the US Supreme Court's Daimler AG v. Bauman and Bristol-Myers Squibb decisions, there is no good reason why eighty-four percent of the cases in Philadelphia against pharmaceutical companies are filed by out-of-state plaintiffs. Philadelphia Court of Common Pleas continues to be a magnet for mass tort claims from across the country and the court continues to look the other way when forum shopping occurs.  When over 5000 product liability cases are filed against drug manufacturers in one year, up from 1000 to 1300 filed in 2015 and 2016, something is amiss.
Two thousand eighteen also revealed the workers' compensation scheme where injured workers were receiving unproven, overpriced medications through compounding pharmacies, one of which was owned by a major Philadelphia workers' compensation law firm.  The silence from the Philadelphia bar and those responsible for ethical oversight of attorneys, in light of this conflict of interest, was deafening.  The appointment of a partner from the pharmacy-owning law firm to the PA Supreme Court's Disciplinary Board defied credulity.
The Pennsylvania Coalition for Civil Justice Reform will continue to identify problems with our courts and the practice of civil law as we look to clean up the litigation climate.  We commend ATRA for its efforts to bring the Philadelphia problem to national attention. Hopefully, this type of light will bring about reforms and a chance for Philadelphia to attract business and jobs other than through litigation tourism."